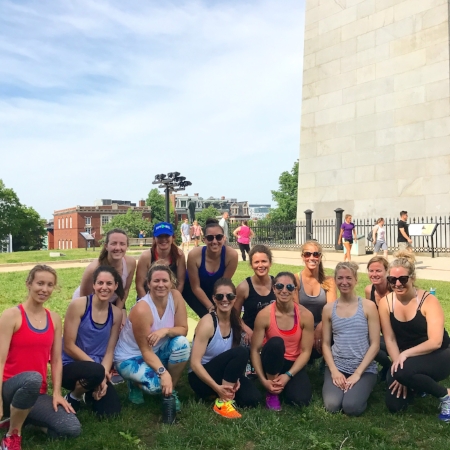 Sometimes I don't think about things and I just do them. If I have an idea, I just go for it. It's like a game to me, putting all of the pieces together to form a finished product. Then once all is said and done, when the glue to my project is drying and it's go-time, I completely freak out.
Of course this is exactly what happened with my new outdoor bootcamps. Last September when Max was born I told Ryan that I really wanted to bring back my stroller workouts that I created when Grayson was a baby. I swore that this summer I would do it and bring it back to Charlestown. This meant that planning needed to take place during the winter. So I just went for it! I applied for a permit to hold classes at the Bunker Hill Monument. I created class ideas and plans. I worked with the very talented Lauren Bevilacqua Cantu of Acqua Design Co to get my web page branded and up and running. I did a photo shoot with the best team ever - Lucie Wicker Photography and Keely Witkowski of B.Fetching and together we created quality images to promote with. I worked with an online company to set up a class registration and payment system. Then I told the town.
When the news went live and my site was open for registrations I panicked. It's always the same fear I have. What if no one shows up? I think every instructor has a similar fear from time to time. It's crazy because at the end of the day we really have no control over who signs up and shows up. All we can do is try our best and give our all, but we can't force people to come. Yet, I don't think I'm alone in often associating my teacher worth with the number of students who come to class. Yes, it's so silly. Whether 3 or 30 show up, the type of instructor I am remains the same. But it's hard not to take it personally when you feel like you didn't get a great turnout. And so the worry set in. What if I did all this work, put myself out there and then I'm standing alone on the top of a big hill with no students. I'll look like a failure...
Luckily I'm a firm believer that hard work and hustle pays off. I've also gotten pretty good at talking myself off the crazy town ledge and reminded myself to just take a deep breathe. It's hard not to take all of this so personal. After all, it's my name on the line. It's no secret to many on a local level that this was my return to teaching in my very special neighborhood, so of course I felt pressured to make it a success. And, fast forward to today...
We now have just ONE WEEK under our belts and you guys have literally blown me away! Classes have been filling up, with over 100 people registered on my site!!! WHAT!?! The vibe during each bootcamp is more than I could have imagined. Pilates on the grass under the summer sun. Boston lurking in the skyline. Early mornings with crisp, cool air while we breathe in our day and lengthen our bodies and minds.
Moms with their babies regaining strength and making friends.
Lots of planks and push-ups using nothing more than our own amazing bodies and a couple park benches.
I can honestly say it's better than I could have imagined. This is going to be a summer we won't forget.
The BIGGEST THANK YOU, THANK YOU, THANK YOU to everyone for signing up, showing up and spreading the word. I am not alone up there on that hill. Far from it. WE are a stronger community than I even realized. WE can do so much together.
As a thank you for helping me kick off a success start to our program I'm offering back my 3-pack SALE of classes for the rest of the week! Purchase 3 classes for $50. This class pack is good for all bootcamps and doesn't expire until the end of the program, which will run through September! Or.. until it starts snowing.
And finally, please let me know your feedback. Are there other days/times that you want to see listed on the schedule? Do you have specific and personal things that you are hoping to work on this summer? Feel free to email me and I'm happy to work with you to help you get the most out of every workout! That's what I'm here for. Nothing makes me happier to see my students soar and feel their best!
So let's keep spreading the word and growing our special community. Tell you friends! Better yet, bring them! Tag JPPilates1 in your photos and use our program hashtag #summerbodiesbyjppilates. I'll see you under the sun and on the grass very soon! XOXO
PS: A few friendly reminders... Please BRING YOUR OWN MAT and WEAR SNEAKERS TO ALL CLASSES. Also, you must reserve your class ONLINE. You can register for classes anytime - even minutes before a class starts! You can purchase single class drop-ins ($20) or save some money by purchasing a class pack. In the case of rain, you'll receive an email from me if class is cancelled. THANK YOU!